Yay, I actually managed to make up for the big goose egg list that was April!
The Lost Boy by Greg Ruth
My rating: 3 of 5 stars
This reminded me a lot of A Monster Callsfor some reason. I guess the artwork was very similar – the black and white, the creepy trees. It is a cool style but at the same time I found it hard to tell characters apart. In the end, I was left feeling wanting. It was a cool concept but I didn't really get the need for the twist at the end.
Also, there were a few lines that the kids said that didn't feel like kid lines. It made me unsure of how old they were. Our copy is shelved in the children's section so in my mind, I made them 12. Near the end of the book, Nate and Tabitha had a few exchanges that were a little too snarky, made them sound like older teens. It threw me and pulled me out of the story.
I almost feel like this would have been better as an illustrated novel vs. a graphic novel.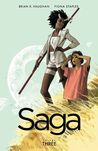 Saga, Volume 3 by Brian K. Vaughan
My rating: 4 of 5 stars
Another great entry in this series. This volume has lots of action and ties up a few plot lines while setting up some new ones. Staples art is fantastic, as always, and Vaughan manages to work in plenty of humor no matter how dire the situation.
Definitely considering buying these when they are published in hardcover sets.
Flora and Ulysses: The Illuminated Adventures by Kate DiCamillo
My rating: 4 of 5 stars
DiCamillo is quickly becoming one of my favorite children's authors. Between this book and the Bink & Gollie series, I have fallen for the dry humor that I know would have appealed to 10 year old me as much as it does now.
Flora & Ulysses is a quirky, sweet and funny story about a girl and a squirrel. It's mix of text and comic book style pages flow perfectly.
I'm so glad this won the Newbery award and that it is on the summer reading list this year. Def one I will recommend!
Nathan Hale's Hazardous Tales: Treaties, Trenches, Mud, and Blood by Nathan Hale
My rating: 5 of 5 stars
World War I was hard to understand even when people were living through it. You sort of gloss over it in history classes because there is no clear-cut "bad guy" like in World War II. World War I was a mess, not only when it came to who was allied with who, but also because of all the new technology that was emerging so we had lots of different ways to kill each other.
Nathan Hale has managed to condense it all down to 124 pages and it works! I came into this book only knowing WWI from watching Young Indiana Jones Chronicles as a kid and basic high school history lessons. Even though it feels like he is being goofy, assigning different animals to each country really helped keep the players clear.
This is a fantastic introduction to The Great War, for kids, teens, or adults. I know I learned so much.
Madison Square Tragedy: The Murder of Stanford White by Rick Geary
My rating: 4 of 5 stars
Another piece of American History/True Crime I knew nothing about and Rick Geary has once again enlightened me. Even though you know exactly who committed the crime from the first few pages, Geary does a great job letting the facts of each person's life unfold in three chapters and then bringing it all together at the end.
And, as usual, you find the more things change, the more they really stay the same. Everything in this book could happen today.
My Little Pony: Rainbow Dash and the Daring Do Double Dare by G.M. Berrow
My rating: 4 of 5 stars
This was SO MUCH FUN to read. Again, Berrow did a great job of capturing the feel of the My Little Pony tv series and characters. And I think you'll be hard-pressed to find a series reader who hasn't experienced the frustration of not being able to talk to their friends about the latest book a in a series. Perfect book for MLP fans of any age.
Adventure Time Volume 4 by Ryan North
My rating: 4 of 5 stars
Another fantastic entry in the Adventure Time series. You should be caught up with the TV show (at least up to Season 3) before reading this since there are a lot of references to characters and situations from those episodes. Funny, smart, but with that hint of sadness hidden between the lines, the comic captures the magic of the television series. And don't forget to read all the secret notes at the bottom of each page! They are the best part.
Charm & Strange by Stephanie Kuehn
My rating: 4 of 5 stars
I'm bouncing between a 3 and 4 star rating for this book because I have read at least 2 other books with similar themes so I can't decide if the knowledge of those books lessened my enjoyment of this one or not.
I really liked the short, alternating chapters. Kuehn did a good job of having the bits of Drew's backstory trickle out as we navigated Win's current life. I don't really want to say much more, for fear of spoiling it. It just barely 200 pages, you can read it over the course of a few evenings (and once you figure out what is actually happening, it's hard to look away, the same experience I had when reading Living Dead Girl, another disturbing YA book, many years ago).
I'm also a little perturbed because our library put a Supernatural label on the side and it is NOT a supernatural story at all. This falls more into the realm of Liar and Forgive Me, Leonard Peacock. Ellen Hopkins did the blurb for the front and this story would appeal more to her crowd than it would to fans of vampire slayers. (I hate genre labels, especially in YA but that is another rant for a personal blog)
Attack on Titan, Volume 01 by Hajime Isayama
My rating: 3 of 5 stars
I didn't pick up the manga until after having watched the ENTIRE anime series on CrunchyRoll. I'm happy I did because I don't think you can capture the movement of the 3D maneuver gear on the page. When Eren fights the Titan about halfway through, it's just a flurry of images across several panels.
I haven't read a lot of manga but this anime grabbed me and did not let go and I wanted to know more and figured reading the manga would help keep me occupied until Season 2 was made. But I'm sorta having the same issue as the debate about reading the A Game of Thrones books — I enjoy the story more on the screen than on the page, so should I spoil myself and read ahead or just wait for the show so I can enjoy it all as it unfolds on my tv.
It is an action packed series, but I think the anime might actually have improved on the story, expanding on some sequences. And what a difference full color makes! Much easier to tell everyone apart in the show than on the page.
What did you read this month? Anything you loved or hated? Share in the comments or link to your entry.