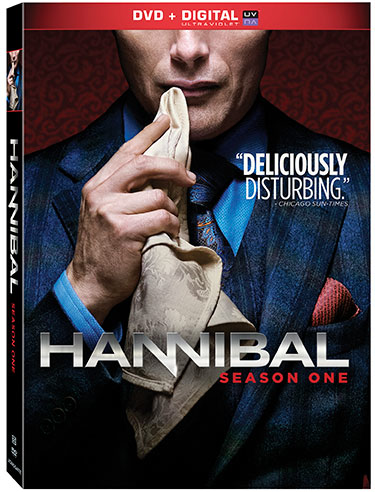 For those of you that don't know, I have a three person rule for new tv shows. I generally ignore them until three different people that I respect say something positive about them. Two of my livejournal friends had been raving about this show for ages and I had put the DVD on request at the library. When it arrived on my desk, my co-worker commented how awesome and messed up the show is. So that was it, three people, I had to watch.
I'm only familiar with Hannibal from Silence of the Lambs. I had passed on all the other movies and I have not read any of the other books. The series is loosely based on the prequel novel Red Dragon (which writer/director Bryan Fuller has tweeted is where the series will be by Season 4).
The series takes place long before Silence of the Lambs when Hannibal was just a psychiatrist (he is still a cannibal, obviously, but he hasn't been caught yet). But even though the show bears his name, the main character is actually Will Graham. His mental state, somewhere along the Asperger's spectrum, let's him get into the mind of serial killers and, in the first episode, he helps the FBI capture a wanted man. Hannibal "helps" by providing psychiatric feedback to prove that Graham is capable of taking on these cases without losing his mind.
Bryan Fuller is the show runner. I loved Dead Like Me, Pushing Daisies and Wonderfalls. The thing I enjoy about Fuller's shows is that he usually has a theme that ties the series together. DLM spent a lot of time discussing death and how we all process it. Pushing Daisies also focused on loss, but also on love as the Ned the pie maker had to live with a requited love that could never be…well, requited. Wonderfalls had a very cynical main character being pulled into a weird "fate" story (I always said it was like Joan of Arcadia but without all the God stuff…just oddness). (and I was thrilled to see Caroline Dhavernas's name in the opening credits). Hannibal, so far, has an underlying theme of identity – who are we? How do we see ourselves? How do we present ourselves to others? What do we hide underneath?
There have been some great first season guest stars that you'll recognize from other Fuller shows. And the wonderful Gillian Anderson also appears in a good portion of the season. (And I'm pretty sure they using the same font that was used in Silence of the Lambs (and X-Files) when showing us the locations, which tickled my homage geek funny bone.)
I didn't pay any attention to the show at first because I was concerned that they would try to make me root for Hannibal. But by the end of the first episode, you realize this is not the goal of the show. Hannibal is already a psychopath. The tension in the show is that YOU the audience knows this. Yet we watch him slowly manipulate those around him. And he's very good at it. And then you wonder if you would fall for it and you realize, yes, you would. He is educated and refined (the way Mads Mikkelsen slowly waves the wine glass under his nose before each sip hypnotizes me every time). He comes highly recommended.
I will warn you that the show is VERY graphic. I've already experience a few moments that made my stomach flip and a few scenes that managed to haunt me when I went to bed that night. Especially if you get the DVD, which has "producer's edits" which may contain some extra gruesome stuff. But the stuff that aired on TV is pretty gruesome on it's own. Will usually has to look at a murder and then they re-enact it on the screen, which I now watch through my fingers so I can quickly save myself from the splurts of blood and up-close shots of mutilated bodies. Oh, and don't forget, Hannibal is a CANNIBAL and he does a lot of cooking.
I don't want to say much else. This is not a police procedural. Crimes happen and they attempt to solve them, but the show is about Hannibal and Will and their relationship, which is what makes it so hard to stop watching.
If you can stomach it, I highly recommend Season 1 of Hannibal.