Top Ten Tuesday is a weekly meme created by The Broke and the Bookish. This week's theme is:
Top Ten Books I Read in 2014
(in the order that I found them while searching my GoodReads page)
Boxers by Gene Luen Yang
My rating: 5 of 5 stars
I know absolutely nothing about the Boxer Rebellion so Yang's "Boxers & Saints" is really the introduction to this part of history for me. I haven't read "Saints" yet though, so I'm not quite sure how fair it is to review this book alone. But I loved "Boxers". Beautifully drawn and easy to understand. I will post more once I have read "Saints".
Reality Boy by A.S. King
My rating: 4 of 5 stars
There is a reason A.S. King gets my "favorite author" tag. She has yet to disappoint me when it comes to realistic fiction about young adults facing difficult situations. Notice I didn't say difficult young adults or troubled teens. These are stories of good kids who have dealing with life as best as they can.
"Reality Boy" is about a young man who, as a child, was featured on a reality tv show and became infamous for defecating around his parents house. Now he is in high school, and as you read the story you find out about what happened in that house his entire life and how he is dealing with it now.
It's not for the faint of heart. It's a tragic story. Gerald has been damaged by his family and it's sad to read about how it all happened. This may not be my favorite of King's books, but it is still a solid story. Adults and teens should read her books and sit down to discuss.

Nathan Hale's Hazardous Tales: Treaties, Trenches, Mud, and Blood by Nathan Hale
My rating: 5 of 5 stars
World War I was hard to understand even when people were living through it. You sort of gloss over it in history classes because there is no clear-cut "bad guy" like in World War II. World War I was a mess, not only when it came to who was allied with who, but also because of all the new technology that was emerging so we had lots of different ways to kill each other.
Nathan Hale has managed to condense it all down to 124 pages and it works! I came into this book only knowing WWI from watching Young Indiana Jones Chronicles as a kid and basic high school history lessons. Even though it feels like he is being goofy, assigning different animals to each country really helped keep the players clear.
This is a fantastic introduction to The Great War, for kids, teens, or adults. I know I learned so much.
The Fifth Beatle: The Brian Epstein Story by Vivek Tiwary
My rating: 5 of 5 stars
This is a MUST read. Not just for Beatles fans, Brian Epstein's story is still relevant today and even if you are not a huge fan of the Fab Four, you will enjoy this beautiful graphic novel biography.
I'm not sure what else to say about this book. It gave me so many feels, a roller coaster of emotions and by the final page, I was starting to get a little choked up. Even though I knew how it all ended, it was just so heart-breaking.
This is the 2014 Eisner Award Winner for best non-fiction graphic novels and it definitely deserved the award.
Ready Player One by Ernest Cline
My rating: 5 of 5 stars
If you can LISTEN TO THIS BOOK. Having Wil Wheaton read this out loud may be the best thing that could have happened to this story. It is definitely written by a geek for a geek. If you grew up during the 80s or have a passion for classic video games, 80s movies, and geek culture, you will love this book. Otherwise, you might just be mildly amused by it.
The story itself is the usual hero story, the poor, uncool kid who manages to rise up against the evil empire. There's a reason we see that story all the time though – it works. It speaks to us. And it is SO satisfying when it all ends, even if you knew it had to end the way it did. The journey is so much fun.
The Storied Life of A.J. Fikry by Gabrielle Zevin
My rating: 4 of 5 stars
A very sweet book and a very quick read. It's funny but I tend to not like these kinds of stories, but Zevin's writing was very accessible and it was just the right length.
Perfect gift for the book-snob in your life with lots of references to literature and popular culture in the current book world.
Seconds by Bryan Lee O'Malley
My rating: 5 of 5 stars
I don't know what it was about "Seconds" but I just loved it. I think I loved how you don't exactly love the main character, she has some major flaws (which is apparently O'Malley's speciality – crafting characters I am both frustrated by but identify with too?)
Honestly, I didn't know anything about this book except that it was the new Bryan Lee O'Malley and I loved going into it totally unaware and being surprised by the twists and turns.
Sisters by Raina Telgemeier
My rating: 4 of 5 stars
Another strong story from Raina Telgemeier's childhood that will still strike a chord with tween today because siblings, especially little sisters, will always have a very unique dynamic. And growing up will never be easy. Plus a family road trip and reunion? Always traumatizing, no matter when it happened. Smile is still my favorite but Sisters is really good too.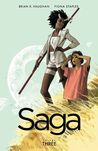 Saga, Volume 3 by Brian K. Vaughan
My rating: 4 of 5 stars
Another great entry in this series. This volume has lots of action and ties up a few plot lines while setting up some new ones. Staples art is fantastic, as always, and Vaughan manages to work in plenty of humor no matter how dire the situation.
Definitely considering buying these when they are published in hardcover sets.
UnSouled by Neal Shusterman
My rating: 4 of 5 stars
The thing that makes me LOVE the "Unwind" series is how Shusterman takes what could have been a one-note songs and turns it into a symphony. Even though this takes place in a not-so-distant future, everyone who reads this book will be forced to think about a variety of issues we are facing right now, every day.
While the seed of Unwind is the "what if the abortion war ended with people being allowed to get rid of their teenagers" as the story has progressed the theme has gone on to question science, war, leaders, government, terrorism and so much more. It's what makes this series so disturbing yet so fantastic.
Of course, being that this is book 3, there was a lot of things being set up for the grand finale that will be book 4. Right now, this book gets a tentative 4 stars out of 5 because Book 4 will decide if this was all worth my while.