Glory O'Brien's History of the Future by A.S. King
My rating: 5 of 5 stars
Another strong story from one of my all time favorite authors. If you have never read any A.S. King, she has this wonderful sense of magical realism. Her stories are grounded in reality but there is always something different about this. In this one, the book starts with Glory and her BFF drinking a dead bat and then they feel like they are hallucinating visions of the past and future. But really it is about growing up, that weird realm of existence right before high school graduation, when you know that the people who have been around you for the past 4 years are going to go away soon, that you are no longer a child but an adult…King's books always hit me right in the feels and the voices of her characters are very real.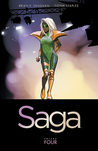 Saga, Volume 4 by Brian K. Vaughan
My rating: 5 of 5 stars
Just keeps getting better and better. I actually feel like this collection is the best it has been since the first trade. I just really hope that BKV has this all planned out. It has been compared to 'Game of Thrones' in it's complexity which means it could be awesome or it could all fall apart if they don't know where it will all end. Right now I am enjoying the ride.
Andre the Giant: Life and Legend by Box Brown
My rating: 4 of 5 stars
My only knowledge of Andre is from the movie The Princess Bride. This was a fascinating look at the world of wrestling in it's early form as an entertainment and the examination of a man who was unlike any other. Box Brown does not pull any punches (unlike the wrestlers) so you get a very balanced look at Andre, his life, his work, and his legacy.
Carsick: John Waters Hitchhikes Across America by John Waters
My rating: 3 of 5 stars
I think this might have fared better as a blog that waters updated on the road rather than as a book. I think the only reason I made it through this was because Waters was reading it to me. The first half of the book, heck, the MAJORITY of this book is Waters fantasizing about the best and worst things that could happen to him on the road. I really did enjoy the last part of the book, the ACTUAL real rides of the trip. Probably not as exciting as Waters or his publishers had hoped (perhaps that was why they felt the need to create more dramatic rides in the beginning?) but fun.
If you are going to experience this book, definitely pick it up as an audiobook.
Adventure Time: The Flip Side by Paul Tobin
My rating: 2 of 5 stars
Not the best one. I think the story could have been half the length, which would have helped. I ended up speed reading/skimming the last few "chapters" just to see how it all ended.
My Little Pony: Fluttershy and the Fine Furry Friends Fair by G.M. Berrow
My rating: 4 of 5 stars
It's "Babe" meets "My Little Pony" is another adorable chapter book. Totally loved this one!