A weekly meme revived by Taking on a World of Words.
The Three Ws are:
What are you currently reading?
What did you recently finish reading?
What do you think you'll read next?
Currently Reading:

I'm about halfway through two non-fiction books right now – Becoming Maria: Love and Chaos in the South Bronx by Sonia Manzano a.k.a. Maria from Sesame Street. It is her autobiography and I am listening to it on my drive to work, which means it is lasting a long time since my commute is all of 15 minutes. She reads the book and I think that adds a lot more since she is telling the story. It is not quite what I expected, a very different kind of autobiography, she is telling it from her point of view as a child/teen so you don't get any nostalgia or side notes about how life in the 1960s New York City compares to life today. It is all very matter of fact, the way a kid would tell their story.
The other is the latest by Mary Roach – Grunt: The Curious Science of Humans at War. She tries to keep it as light as she can, but when it comes down to it, even though she is avoiding talking about weapons and the actual act of fighting, so much of the science around war is about survival and even discussions about sweating eventually lead to a conversation about horrible ways to die while in the line of duty. It is still fascinating, and I think she tries her best to inject some humor where she can, but it is hard to separate the reality of what happens to these soldiers after she talk with them about diarrhea while on a sniper mission.
Recently Finished:

Filmish: a graphic journey through film by Edward Ross was a fantastic primer on film and film history and film studies. When I first picked up this book, I wondered why Ross didn't just make a documentary, but then as I read through, I realized it would have been impossible for him to get the rights to all the films he cites in the book. If you love movies, if you love that art of movies and love to sit and think about a film long after the screen has gone dark, this quick read is one you won't want to miss.
Up Next: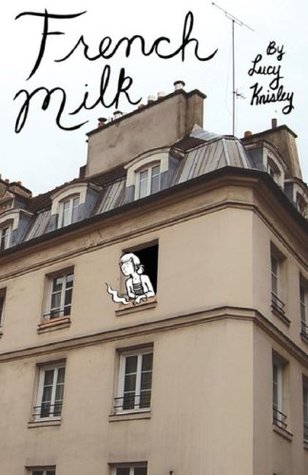 I have SO MANY BOOKS on my desk at work and my temptation is to always reach for the graphic novels first because they take less time to read. I never factor into this equation that I have EVEN MORE graphics on request so by the time I finish these, a new one will be on my desk, pushing the prose novels down the line yet again.
Last month I read Relish by Lucy Knisley and I really enjoyed it so I requested French Milk, one of her earlier publications. It appearedon my desk today, on special loan from another library system so it gets bumped to the top of the pile.
I have been a big BKV fan since I read Y: The Last Man so many years ago and I was so thrilled to see We Stand On Guard on the new book cart at the library, so I immediately snatched it up.
So what are you reading?