Or, here come all the games I backed on Kickstarter back in 2020 AT THE SAME TIME!
A lot of us acquired some vice during the pandemic, something that they perhaps poured a little too much of their extra time and money into while stuck at home, trying to distract ourselves from the world on fire outside. Since my board game obsession started in late 2019, I was pretty much doomed when I had nothing but time on my hands to browse gaming websites, social media, and generally find out about different upcoming games, massive FOMO when you see the Kickstarter exclusives…
ANYWAY! That is the past! That money is spent. NOW THE FRUITS OF MY LABOR (that labor being typing in my credit card number the first time then saving it forever, thus dooming myself) are about to arrive!
Well some of them. Shipping is still kind of f'd at the moment. Pretty much every single company I follow online has had an issue. But after looking at GenCon pictures all weekend, this felt like a fitting topic to post about. So here is what I THINK will be arriving later this month or in October:
Chai Deluxe – this was one of the first games I backed and, unfortunately, one of the first games to get hit by all the COVID woes. I actually late pledged for the physical game, not realizing how insane a print-and-play for something like this. Like, who does that? Probably people with pretty complex setups at home that can create their own high quality print jobs. But me and my HP are not going to cut it.
Last I heard from them was in August so it seems like this should be arriving any day. Wondering if my junk filter ate the email. I might send them a love note to see if they can find my order and give me an update. (Yes, I backed Chai: Tea for Two also even though this one hasn't arrived. See above: my problem.)
Dollars to Donuts – From the same people that designed one of my favorite games, Point Salad, this one is less healthy themed but hopefully just as fun!
I'll be honest, I barely know what the game is about besides that donuts are involved. And tiles. Don't judge me. Just looking at the box makes me hungry!
Dinosaur World and Dinosaur Island Rawr 'n Write – another one where the ALL IN Kickstarter fomo got me, I think I'm getting both games with all the extras because how could I not? These games are not quite unlike a certain popular dinosaur themed franchise that they bear no resemblance to otherwise for legal reasons. The retail copies were sold at GenCon so I'm seeing photos in my board game Insta and TikTok feeds and I just want them now!!!
Lay On Hands – This was a little itty bitty Kickstarter with a really unique idea – a solo rpg with dexterity elements! And the art just looks really cool.
I technically already have this as a PDF, but I am pretty sure I paid a bit extra to have a copy printed for me. As mentioned before, the idea of print and play appeals to me, but then I never actually bother to print and play them.
So now I just pay the extra and get a physical reminder.
Dwelling – another solo RPG, and I just got the PDF of this but, again, I really want the physical copy. I mean, click through and look at how pretty it is!! Really hoping my copy arrives before the spooky season ends.
I really like the art style and the whole style of it, along with the safety tools – you peek through a keyhole and a key to navigate certain things and also to keep the scary things at bay. Can't wait to find some ghosts!
Hero Realms: Deckbuilding Game Digital – this was a spur of the moment back. Alex Lolies from Dicebreaker LOVES Star Realms and this is by the same people so I watched a live playthrough on the YouTube site. It looked like fun and the pledge wasn't very much.
I've got the beta on my phone and through Steam now so technically I have the game, even if it is still being built. But I am enjoying it and am tempted to buy a physical copy someday. But as no one I know is into these kinds of games IRL, the digital one is a perfect fit!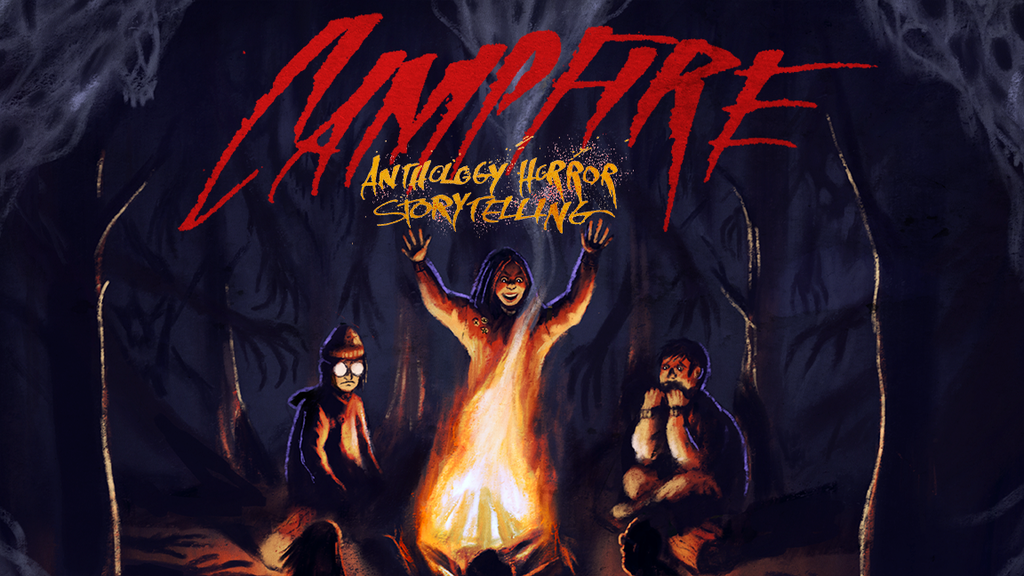 Campfire: Anthology Horror Storytelling – another one I really hope makes it before the end of October. This one is an RPG focused on collaborative scary storytelling! It's made by the same people as This Discord Has Ghosts (which I may have ordered the special edition copy of when it was announced last week…). I'm just obsessed with these kinds of games, storytelling as a group just has a special kind of magic.
The Dragon Prince Battlecharged – BONUS, this one wasn't a Kickstarter but I did pre-order it to get the extra stuff. Last I heard, it should be shipping this month!!!! I feel like a Dragon Prince rewatch will be in order once this arrives. I freakin love this show.
Also, not a KS, but a "late backer" for the two-player RPG Partners from Half Monster Games. This one shipped last week but it is coming from Australia so it won't be here until October. Again, I have the PDF. I really should get some kind of eReader JUST for all my games. Hm…actually, this might be a valid use for my old iPad! It doesn't do much else.
And I may have given in to some of the Labor Day deal I saw from Deep Water games and ordered the entire Welcome To… series, MonDRAWsity along with a few others which should be arriving next week.
So, who wants to come play some games with me?????