These are my "top shows" according to the TV Time app that I use to track what I'm watching. I guess by "top" they just mean, I watched a lot of them, as it never asked me what I thought about any of the series. So let me qualify this list a bit:
1. Milo Murphy's Law – This series, by the creators of Phineas and Ferb, was born before Disney+ but after I had dropped any kind of cable with Disney available, so we never got to watch it. But once we saw it was on Disney+, we had to stream it! As I posted before:

"[…] this show is about a family that suffers from Murphy's Law – that anything bad that can happen will happen. The titular character, Milo, is voiced by "Weird Al" Yankovic and the rest of the voice cast ranges from regulars from Phineas and Ferb to celebrities like Jemaine Clement and Mark Hamill!
The show is funny and really smart. And, as my partner pointed out, really doesn't have a reoccurring villain or mean character. The main obstacle in each episode is whatever ridiculous thing Murphy's Law causes and the kids managed to navigate it with whatever supplies Milo has in his mysterious backpack. Bonus points for Milo's dog, Diogee (yes, D-O-G…took me WAY too long to get that joke…)"

2. Avatar: The Legend of Korra – I had tried to watch 'Korra' when it first aired, also in that strange in-between time when Nickelodeon didn't have a TV streaming service and their PC app was garbage. I couldn't remember why I gave up on the show, and several friends seem to really like it so I wanted to give it a second chance.

I didn't much care for it. I do appreciate how different they tried to make Korra from Aang and that they didn't just make the show about Aang's family (though I think Tensin's story was a lot more interesting than Korra's).
I never really connected with Korra as a person. There were some interesting politics and moral dilemmas that kept us watching, but I almost quit when the love triangle just wouldn't die. It reminded me a lot of the start of every season of BtVS, with Buffy always rejecting her Slayer-ness or going solo, only to find that embracing who she was and her friends' love was how to survive. I felt like it took too long for Korra to realize that. But I'm glad I watched it so I can at least now complain with knowledge and not just vague awareness.
3. Ducktales – This show is a GIFT and I adore it. So many winks and nods to the original series, but with enough going on to keep everyone interested. I've laughed and I've also cried at the antics of all these characters. And the voice cast is just top-notch, which raises it up a whole other level.
4. Bob's Burgers – In January 2021, there was a drought of new TV because 2020. For some reason, I decided to rewatch 'Bob's Burgers' from the start. I think my motivation is that I constantly recommend the show to people and had that sudden thought of "omg…what if it has aged really badly and they go to watch it and are horrified by my comedic choices?!?!"
I'm happy to report that it actually aged really well! First season or two have some cringe jokes, but really it has always lived in a place where it isn't about insulting or being mean. We rewatched all 10 seasons, just in time for Season 11. It is definitely up there on my top favorite shows of all time.
5. The Goldbergs – I don't actually enjoy this show anymore. I kind of hate everyone in the family and find the tropes to be so outdated. I mean, they were outdated in the 80s when shows about the 50s were popular and to see them here, again, made into some kind of nostalgic slop…blah. Each season, I cringe even harder and just stare at my phone while everyone else watches. Everyone on that show is terrible but it is never acknowledged.
6. Ted Lasso – if I could rank shows, this would be #1 for the year. I'm so grateful for that Apple TV trial that came with my iPad because it gave me access to Ted Lasso. This show lifted me up in a way I never would have expected, especially after I heard the premise. It is charming and sweet and sad and melancholy and so many other things. The whole attitude is one to live by. I might be starting a rewatch right now…if I can get my stepdaughter on board with watching it for the first time. It is worth every penny to sign up for Apple TV just to watch this show.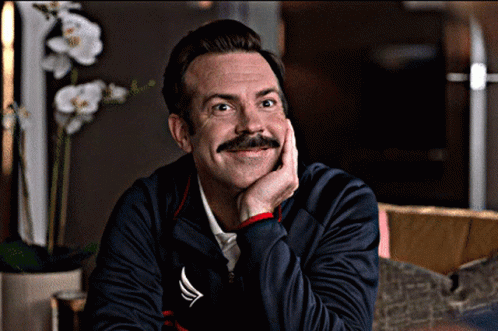 7. Mythic Quest – After we finished Ted Lasso, we clicked on this one. I wasn't sure what to expect as I had heard mixed reviews of this series and I wasn't at all familiar with the cast and crew to know why Apple had tapped them for a show. It took a few episodes to realize how off the wall the show really is.
The plot of a behind the scenes of a company that runs a massive MMORPG franchise, which seems very straight forward and it is presented that way. But as you watch, you realize these people are all kind of ridiculous. But somehow also endearing in a really messed up way? And then there are these strange little vignette episodes that don't appear to have anything to do with the rest of the show but it all comes back at the end. It was much smarter than it looked at the start – the humor can be a bit crass and immature for sure – but it's heart is in the right place and those are the kinds of crass/immature comedies I can enjoy.
8. It's Always Sunny in Philadelphia – Once we finished Mythic Quest, we decided we should go back to the show that creator came from. I had heard about this show, but never watched it. I had no idea it had been on since 2005! Quite the shock to turn on Hulu and see that old TV ratio on the screen.
Always Sunny is like Seinfeld but to an extreme – these people are truly awful, do awful things, and suffer awful consequences. But somehow it is funny and you can't not laugh. We're up to Season 4 now and dear lord, the show likes to push the envelope where it can.
9. Attack on Titan – we thought this was the final season, but it was The Final Season, Part I…so this will be on the list next year for what I assume is the actually really truly finale maybe? Will it make any sense? Will I have forgotten more about AoT than I ever knew about it by the time the finale rolls around, leaving me confused? Will I probably have to google "WTF AOT" after the credits roll? Probably. But for now, it remains one of my all time favorite animes.
10. Unlisted – This Australian series that Netflix randomly picked up had an interesting premise, about teens being microchipped and controlled by a shadow organization. It had lots of tense moments and felt like the start to something cool. Unfortunately, Netflix hasn't confirmed a second season yet so might just be wasted potential.
HONORABLE MENTION: The Expanse and The Witcher are airing right now. This is the final season for Expanse, only 6 episodes, so not enough to make the app recognize it, but the 3 episodes that have aired so far are gut-wrenching and I don't even know what the finale will bring…except for tears. Pretty sure there will be tears.
The Witcher is also back, but we're only two episodes in. It is really making me want to read the books. Maybe I'll just spend all of 2022 reading Expanse and Witcher. Worse ways to spend my time.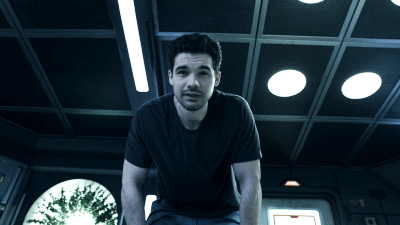 What shows did you watch this year? Any new favorite series? Old ones you revisited? Let me know in the comments! Likes and shares are always appreciated!